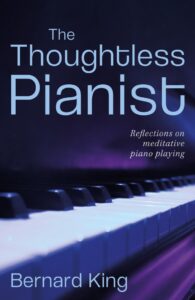 The Thoughtless Pianist
A new and unique book that looks at piano playing in a new light.
This reflective book on holistic piano playing, written by an experienced pianist, teacher and psychotherapist, explores a number of topics in quest of what is known as 'the peak experience' in artistic performance with reference to esoteric philosophy, psychotherapy, hypnosis and N.L.P.
Drawing on the author's considerable experience in these areas, it aims not so much to give answers as to stimulate discussion, reflection, curiosity and experimentation. Written with a light engaging style, full of personal reflections, anecdotes, ideas and useful procedures for learning, practising and performing, it also includes some specimen hypnosis scripts to encourage confidence in playing.
This should be of great help and value to all those of all levels who take their piano playing seriously as many of the ideas are useful for the elementary player, as well as the more advanced student and professional.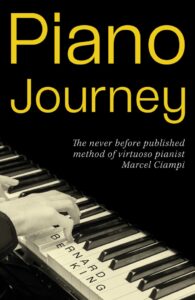 Piano methods have always been contentious subjects. Piano Journey explains in detail, with many musical examples, the never before published method of the great French virtuoso pianist Marcel Ciampi.
This is one of the first methods which amalgamated ideas from the Russian tradition, which dealt a blow to the old French school of piano playing and will be of historical and practical interest to more advanced pianists. The book is in part an autobiographical account of the early stages of the authors' own journey, which includes his perceptions of differences between studying in London and Paris in the mid twentieth century.
Drawing upon the authors' extensive psychotherapeutic knowledge, the book explores some of the issues of performance anxiety and is designed to give encouragement and help to all those who are seeking ways forward with their piano playing. Piano Journey is suitable for pianists looking to advance their studies, either technically or psychologically, and offers support and guidance throughout.